Purple Style Labs establishes a resonance with the designer's aesthetics and by staying true to his design sensibilities with the Reminiscence collection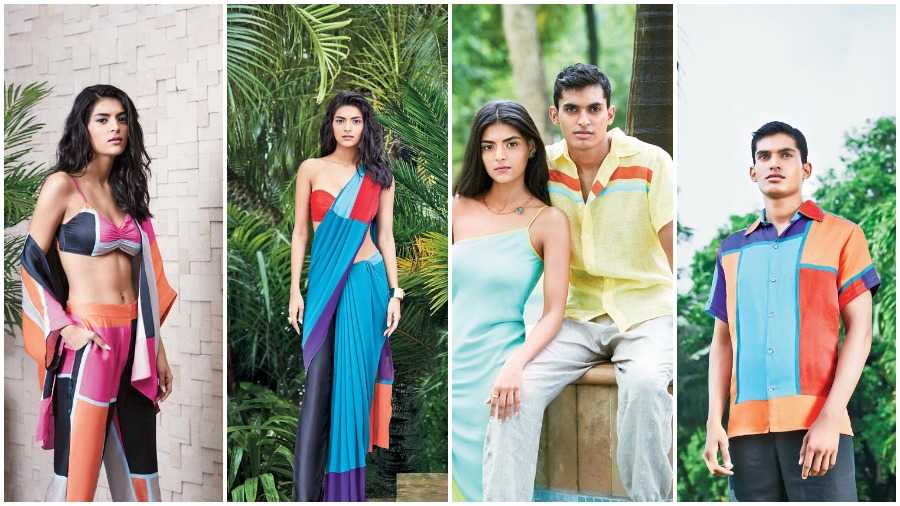 Wendell Rodricks's death in 2020 came as a rude shock for all as the veteran designer was not just known for his long strides in the fashion industry but also for his forward thinking when it came to bigger changes in society. The label was acquired by luxury fashion house Purple Style Labs last year, with the aim of keeping the Goan designer's legacy alive. Keeping their word, Mumbai recently witnessed the launch of a store for the Wendell Rodricks label, which is their second standalone one after the one in Panjim, Goa. Along with a new collection titled Reminiscence, the Purple Style Labs design team revisited some of Rodricks's signature style elements such as colour-blocking, the easy silhouettes of resort-wear and handlooms, and they also launched a jewellery collection for the label. In a t2 chat, Abhishek Agarwal, founder and CEO, Purple Style Labs (that also has Pernia's Pop Up Shop and Hemant Trevedi under their belt), tells us more:
Abhishek Agarwal, founder and CEO, Purple Style Labs
How was the new Reminiscence collection conceived and made?
Wendell Rodricks's loss last year shook the fashion world as well as environmentalists and cultural activists who have since mourned a man who advocated strongly for sustainability, local heritage, indigenous textiles and weavers. We are incredibly proud to ensure that his legacy lives on through the Wendell Rodricks Label, which Purple Style Labs acquired in late 2020 and continues to bring his incredibly stylish yet wearable fashion crafted carefully with luxurious, fluid and breathable fabrics to both men and women.
With a three-decade-old legacy, the Wendell Rodricks label has remained true to its original signature style of 'keeping it simple'. Establishing a resonance with Wendell's aesthetics and by staying true to his design sensibilities and historical collections, with the Reminiscence collection, we have reimagined his classics. We have an in-house design team with PSL's management spearheading the brand till we get somebody to fill in his shoes.
Given Wendell's legacy, what were the considerations you had to keep in mind while creating this line?
Reminiscence comprises a selection of garments, inspired by Wendell's classics that have been painstakingly curated by the Purple Style Labs's design team and brings forth and celebrates the late designer's Goan roots, along with all the things that people love about the Wendell Rodricks label. It's fun, modern and inspired by the designer's travels; made for those who, just like him, love a holiday or getaway. The collection exudes free-spiritedness, minimalist attributes, versatility and an overall youthful vibe.
Keeping Wendell's aesthetic in mind, our design team has created new silhouettes, while also incorporating the detailing, techniques and colours that Wendell used. The collection encapsulates the essence of carefree living and features an array of colours, ranging from bold and lively to, of course, Wendell's classic whites.
Seen in an updated avatar, the timeless styles from the Reminiscence collection pave the way for a fresh chapter in the designer's legacy, while lending new life to his most-loved designs.
The three divisions within the collection are interesting. What stories were you looking to tell through them?
Taking cues from Wendell's iconic design sensibilities, we have divided the collection into three broad categories: The Minimalist Story, The Handloom Story and The Colour-Blocking story. Largely comprising easy kurtas, breezy shirts, fluid dresses and smart tunics, the minimalist segment of the collection is truly an ode to the late designer and is all about his minimalist design ethos. Wendell's philosophy of sustainability and focus on Indian textiles is what we want to translate in his new collection, in order to continue his legacy. Hence, the Handloom Story sees the extensive use of natural fabrics and indigenous techniques, such as Wendell's signature Kunbi & Mundu textiles. The Colour-Blocking segment of the collection is a redux of Wendell's extremely popular designs that drew inspiration from his love for the art of Piet Mondrian, who simplified the subjects of his paintings down to the most basic elements.
What are the future plans with the label and the store?
The launch of the standalone Wendell Rodricks flagship store in Mumbai is only the starting point of making the label available on luxury streets all over the world.
Post the acquisition of the label in late 2020, we spent the first six months building a strong team across various departments and a set-up in Goa, the home location for the brand. As the first step, we have already established an e-commerce platform for the brand and its integration with key multi-designer platforms. With this complete, our focus has now shifted towards creating more retail touch-points in major cities, starting with Mumbai in September.
After three-six months of a learning curve, we shall very quickly expand to all other major cities within India, namely, Delhi, Calcutta, Bangalore, Hyderabad and Chennai. Thereafter, we shall also be looking at international expansion for the brand.